WEB DESIGN DUBAI | MOBILE APP DEVELOPMENT | DIGITAL MARKETING AGENCY IN DUBAI
Let's be honest. a website is the face of your online business. You must be proud of your web design, otherwise, you will not be sharing it.
If your website looks old-fashioned then your competition can crush you! It is imperative that you have the best website design in your industry. 
Your competition should be looking to you for inspiration.
You are looking at an experienced web design Dubai company website. Below, we'll cover some important elements to think about when we are developing your website.
 Straight to the topic = No guesswork for visitors!
Your website should be clear and to the point. You have less than 5 seconds to capture the attention of your visitors. If you are unclear in your message or what you are selling, you could miss out on this precious opportunity that just visited your site.
Use images to showcase your business (having a large image on the home page is a great idea).
You will notice most of our sites have at least one giant image and our customers have a very positive response to it. Text is also extremely important. 
Even though most people tell us "I don't want a lot of text on my website", having literature was written on your website is very important. This is because search engines don't see your site as visitors! Search engines are robots or "bots" that were developed to visit and analyze your site.
They capture the information on their website and save it in a huge database for search queries. These robots cannot see or read images! So, if your site has no text, in the eyes of robots your site is completely empty. Now, as we said, some of our customers don't care about search engine results.
These customers are, for the most part, artists, photographers or to promote a local party or event, or a website for a show or film that has many graphics. For these types of websites we web design agency Dubai
, the most important thing is to have something cool and modern to look at.
They don't care so much about search engines, so they are an exception to this rule.
But, almost 99% of businesses, love to be found at the top in search engines. Better for you that we understand all of this and GCC-marketing will help you with everything. From the appearance of the site to the amount of text you should be writing or what you should be writing about.
Call to action!
AHA! Now we are starting to talk about my favorite part! Having a call to action is impressive! Before determining which call to action your website should use, it is important for the website design company in Dubai to develop your website to know everything about your business objectives.
If you are a party rental company and you are almost never in your office, or hardly ever check your email, an online form is not the best option for you. It would take you a long time to answer your visitors' questions.
A call to action that would work best for you would be a phone call, so displaying your phone number on the website should be your number one priority. In this case, a phone number should always be placed in the upper right corner of the page.
It is also good practice to place the phone number at the bottom of the page and somewhere in between. This ensures that visitors do not have to search for your phone number. 
Believe it or not, the best 
web design Dubai organization will prefer you to have
a phone number to provide you a lot of credibilities.
If a company does not have a phone number, a customer may start to suspect and think that it is not a real deal.
So, display it well! Also, make sure it is displayed as text, not an image because phones cannot read images well and you will not have click-to-call action.
Esample. Let's say you are the owner of a real estate company. You have certain salespeople on your team and you need to keep them busy. Phone calls would be ok, but an online form would be much better for you to capture customer information, save it to your database, track how many calls are coming into your company, and turn this into a conversion.
Conversion is a term that basically means "closed business" for each customer. Your target is to have maximum conversions as possible from contact forms and phone calls generated from your website.
As you can see having a type of action on your website is very important. Other types of calls to action can be: making a sale on an e-commerce site, a customer registration or pre-filling forms, etc. "Conversion" element focused on all of these.
Credibility and security to your customers
Now that you have covered the items above, a good practice when creating a new web design Dubai from a team is to show customers how excellent you are at what you do. This is usually done by showing some of your work, or with testimonials and opinions on your website.
This will motivate your website visitors who are not 100% sure to make the call to action to an end.
Another important element of your website is to be shown reliability and security to your customers. This can be achieved by affiliating with other credible web development companies in Dubai.
Some examples may be, the chamber of commerce in your area, or any other type of credible companies that show that you are a serious and reliable business. This is not only good for your credibility, but it will also help you with search engine results.
Affiliating with strong web designing companies in UAE can show bots that you are also a strong, reliable company and your visitors that they should consider you before the competition.
Marketing, Marketing & More Digital Marketing!
So, do you want to be successful online? There is only one way to do this by having a great website from web design Dubai and marketing it like crazy! Not marketing your website is almost the same as not having a website. Imagine: you open a beautiful restaurant, you are a great chef and the food is excellent, the restaurant is impressive when you enter.
Then you open the front door and do nothing. If you are in a good area, you can even get some customers, but if you are in a hidden location you will get zero! With a website, you don't have a lease, and if you don't advertise you will have no business! An online marketing strategy should be part of your plan.
Here are some important things to know about marketing!
Many 
agencies will try to sell you marketing before they even finish their website. If your goal is to reach only one local area, say your neighborhood and a few adjoining ones, this may be OK.
This is because targeting local search results is easier than a national or state campaign. If your goal is to attract more attention in general, from local, state, and national, these packages are generally less than ideal. When you are receiving a package from the agency, it is important that they have these 3 basic requirements:
1. SEO (Search Engine Optimization) - The most basic element is SEO, as it is an element that is always having to be modified.
2. Local Lists - This is what allows you to have a listing in local search results, such as Google maps, yellow pages, etc.
3. Social media - This should include all of your social media that you work with. Facebook, Twitter, LinkedIn, and Google Plus, at the very least!
These are just some of the most basic points that any marketing effort should have. An even more profound form of marketing can be done when the website is completed. The web design company you choose should review your online rankings in the search results, create a formal proposal depending on your budget and present it to you.
This proposal must have several important information, such as the current ranking information, proposed objectives, your forecast for the return on your investment, and how many conversions will be estimated.
Another great form of 
web design in Dubai and
online advertising is by doing pay per click advertising. Adwords is among one of the best ways to advertise online, control your costs, and measure your return on investment. Online marketing campaigns are highly measurable, more than any other type of traditional marketing.
Having a google partner agency for you is your best option. GCC Marketing is proud to be a Google certified partner and to be able to assist you in this and all other marketing points above.
Do You Need A Web Design Dubai Company?
GCC Marketing
is proud to be a Google certified partner and to be able to assist you in this and all other marketing points above.
At this point, you should have a much better understanding of how the design, development, and marketing of your website are intertwined.
Now is the time for you to take the next step and call us to speak to our team of professionals and if you're thinking about building a new website, our web design company in Dubai offers the best web designs at the lowest rate, GCC MARKETING is the perfect place to start.
We are also one of the leading eCommerce companies. When you talk to us you will get an idea of our knowledge and passion for web design. Take the next step and call now.
Digital Marketing Dubai
GCC Marketing is considered one of the best Digital Marketing Companies in Dubai. We not only develop websites but also help our clients getting a better rating on search engines like Google, Bint, etc. If you have a well-designed responsive website but no one knows about it then all your efforts go to waste. We make sure that you are well covered in all digital aspects of your business.
Mobile App Development Services Dubai
We design apps for your business that will give you an edge over your competitors. From the initial phase of concept to wireframe, designing of the app, and then custom app development is taken care of by our team.
Our Web Design Dubai company will create websites on hand to complete any complex website design requirement. We craft your corporate website on any of the popular web design platforms like WordPress, Laravel, Drupal, Joomla, Weebly, Shopify or Magento. Our team of professional designers are ready to take on your project.
A good website must be as functional as well as eye-catching. While our web designers create stunning websites. Our web developers ensure that your website is efficient and functional. Website Development Dubai service uses advanced web development platforms to accomplish development task for your website project.
Our eCommerce Web Design Dubai services will be the backbone of your online businesses. GCC Marketing's industry-leading ecommerce web design solutions are customized according to the nature and size of your business that delivers the best user experience to your customers. Remember your website is your identity.
Watch Our Video
At GCC MARKETING, we are passionate about being the best web design Dubai company. We are expert in providing a wide range of Digital Marketing services which include Branding, Web Design, Web Development, SEO, Social Media Marketing, Google AdWords Management, Online Advertising and much more.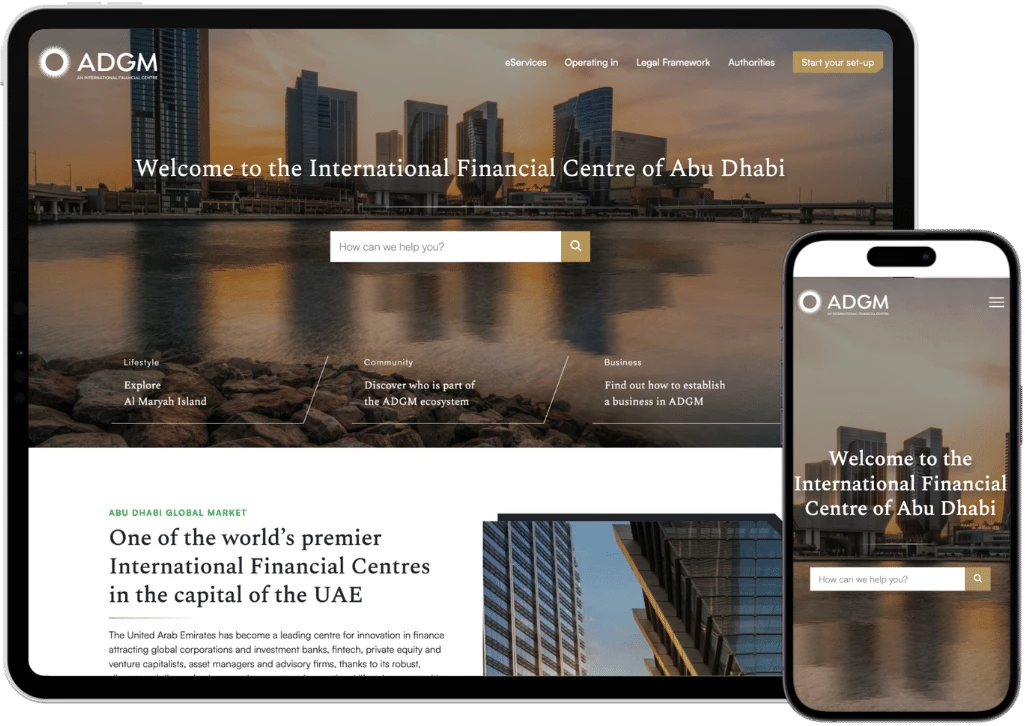 Featured Project
Abu Dhabi Global Market
GCC Marketing Designed and Developed a Website for Abu Dhabi Global Market.
see case study
OUR LATEST PROJECTS
We have been working hard to make user experience awesome because we are not happy until you are. Proud to work for some of the best companies across the world and glad to show you what we have done for our happy clients.
Video Testimonials
Hear what they say about GCC Marketing in their own words
Our Valuable Clients
Our successfully delivered projects and happy clients say all about us!
Lorem psum doller sit amet is simply dummy text for webites
UK
30 Holborn
London, EC1N 2LX
United Kingdom
Call / WhatsApp: +44 7392 852194
e-mail: [email protected]

Dubai
Al Abraj Street,
Business Bay,
Dubai, UAE
Pakistan
Canal Avenu, Khayaban E Sadiq, Sargodha, Punjab 40100, Pakistan
Saudi Arabia
8533 Al Batha, Al Faisaliyyah, Jeddah 23442 2170, Saudi Arabia